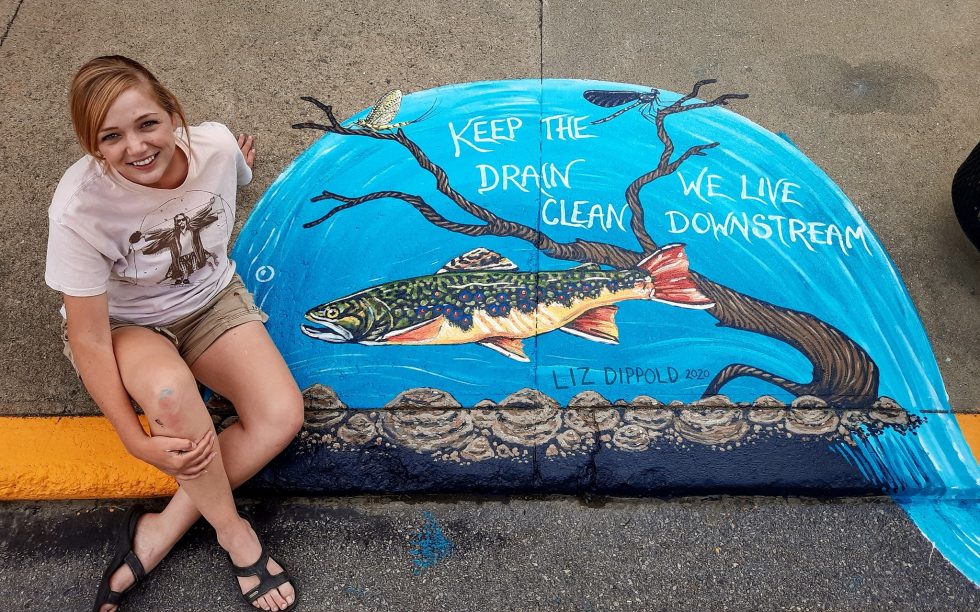 'Up Stream' project brings bold colors — and message — to Elk Country
When Mickayla Poland — an artist and business owner based in Elk County — was approached to help with a mural series that would bring awareness to how stormwater affects watersheds, she didn't have to think twice about it.
Poland, whose art is inspired by the landscapes of the Pennsylvania Wilds and the wildlife within the region, said that "preserving our beautiful natural resources" is a mission of her business, PA Made LLC. She was approached by the Elk County Conservation District to create two murals on storm drains in Elk County that would help the organization raise awareness of the damaging effects that dumping waste has on streams and rivers.
"Stormwater that goes into our sewer lines doesn't get treated and goes into our streams," said Evan DeLong, a watershed technician with the Elk County Conservation District. "We wanted to tell people that the water that goes into our drains goes right into the Clarion River, and advocate for people not to just go dump oil or any other kind of pollutant or solid waste."
DeLong said that the project — called "Up Stream" — was spearheaded by Stephanie Stoughton, a former employee of the organization. Stoughton worked with the Elk County Council on the Arts (ECCOTA) to receive a PPA Project Stream Grant to fund and complete this project.