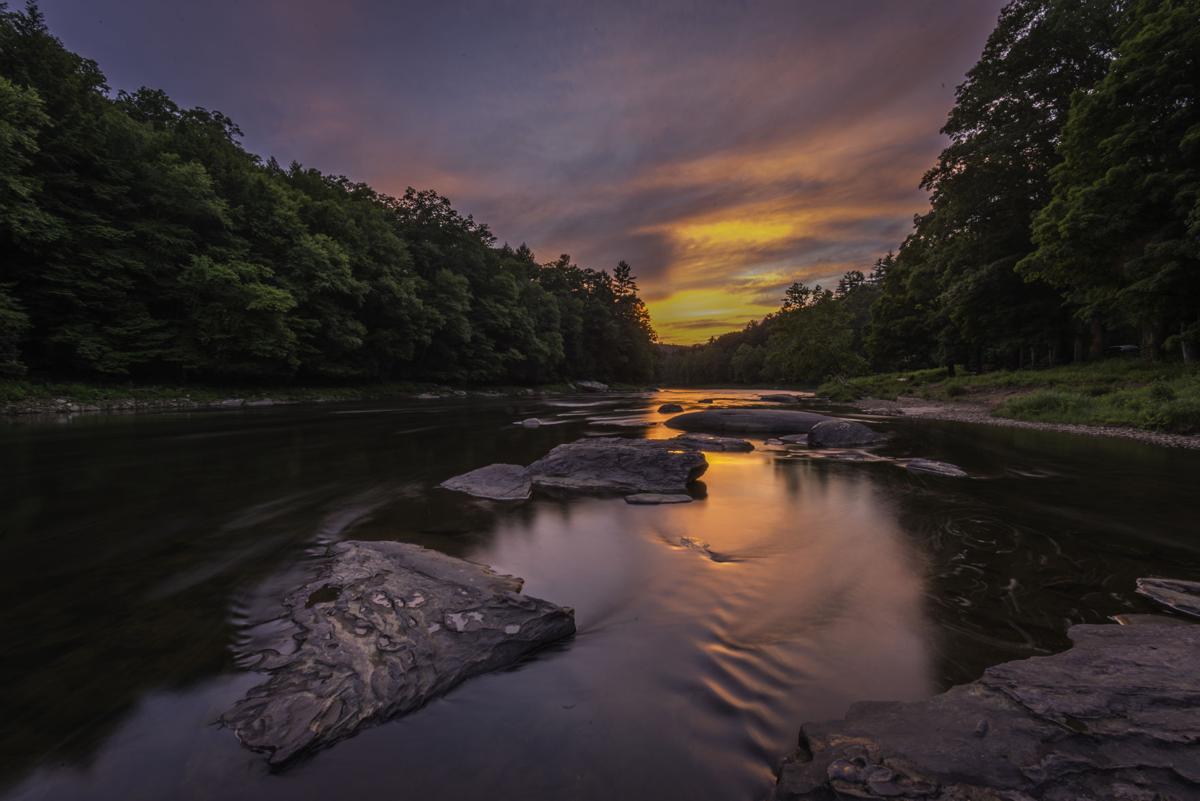 Hike, paddle, relax, repeat–in Cook Forest State Park
This post originally appeared in Recreation News.
Step into Cook Forest — in the Pennsylvania Great Outdoors region —to relax, unwind, disconnect from the world and enjoy nature.
Cook Forest is one of those special places — there's few left — where you can always hear the mountain breeze, the sound of small animals scurrying around in their natural habitat and where you can connect with nature in a way that most of Pennsylvania's regions don't allow.
2019 Pennsylvania River of the Year
Outdoor enthusiasts will find that there's no shortage of opportunities for them within the 8,500-acre state park. In fact, the river named Pennsylvania River of the Year for 2019 runs right through it — the Clarion River. The river meanders for 110 miles through the narrow valleys and hardwood forests of the Pennsylvania Great Outdoors region.
Once in Cook Forest, the river offers class I kayaking, tubing, canoeing, fishing, and views that feature steep hills, mature trees, and diverse wildlife. Visitors can rent kayaks, canoes, tubes and river rafts right alongside the river in Cooksburg at Pale Whale Canoe Fleet.
Hiking
Spend a day hiking in the state forest's extensive trails system — there are 29 miles of trails, most cutting through old-growth forests, making a trek through the woods even more magical.
The park's Forest Cathedral of towering white pines and hemlocks is designated as a National Natural Landmark. One of the trail entrances is located at the Log Cabin Environmental Learning Center on the Longfellow Trail along Forest Road, after turning off Route 36. The Longfellow Trail then leads to the Ancient Forest Trail, featuring a high concentration of old growth pines. Before your trek back, you'll be welcomed by clear waterways underneath a beautiful forest canopy.
Two must-see scenic spots while in Cook Forest are Seneca Point and the nearby fire tower. Drive up Fire Tower Road to take a quick walk up to each spot, or hike the Seneca Point trail from the bridge in Cooksburg to the top of the mountain. If you're brave enough to climb up to the top of the fire tower, a spectacular view of the treeline awaits.
A portion of the North Country Trail runs through Cook Forest State Park, and continues throughout much of the Pennsylvania Great Outdoors region.
Family Activities
While Cook Forest is incredibly secluded, there are many activities for kids and families that are just a short drive away.
The Farmers Inn is just north of Sigel, a quick drive from Cook Forest State Park. It's the perfect place to fuel up after a day on the hiking trails, with a buffet Friday, Saturday and Sunday as well as a full menu daily. After eating, visit the gift shops or furniture store — featuring handcrafted Amish furniture — or hit up the 9-hole miniature golf, petting zoo or wildlife park.
Even if you live in Pennsylvania and think you don't need to see any more deer, Double Diamond Deer Ranch is a must. At the ranch, owners Rusty and Shorty house a herd of 20 deer — beautiful whitetails with blue eyes, piebald deer and brown whitetail deer. At the ranch, get up and personal with the deer by petting them, or even feeding them their evening treats right from your hand.
Admission to the ranch includes a tour of the facility's museum, The Buck Barn, which is home to some incredible taxidermy, featuring animals from all over the country. Overall, there are more than 100 taxidermy displays, including world-famous whitetails like RDM Goliath, which has perhaps the world's highest-scoring antlers.
Where to Stay
Gateway Lodge is an experience like no other. The lodge is nestled among the hemlock and pine of Cook Forest, and offers a bed and breakfast-like stay. Suites in the lodge feature a gas fireplace alongside a jacuzzi, perfect for soothing muscles after a day of kayaking or hiking. No matter which part of the lodge you're in, you're surrounded by forest views.
Possibly what makes the Gateway Lodge so special is its restaurant, featuring what they call a "farm-to-forest feast for the senses." All of the food served is made from scratch and is organic. Gluten-free and vegetarian choices are offered, as well. Depending on the evening's menu, delve into delicacies such as cracker crusted walleye, venison backstrap with juniper rub and gin glaze. Cap off the meal with "pot de crème" (French custard) or a slice of pie.
After dinner, travel down the hall for drinks around the one-of-a-kind pool table, outside around the fire or on the balcony under the stars.
Throughout the state park, find cabins for rent, tent camping sites and more opportunities for a stay.
Are you ready to get lost in nature, and find yourself?
For more information: