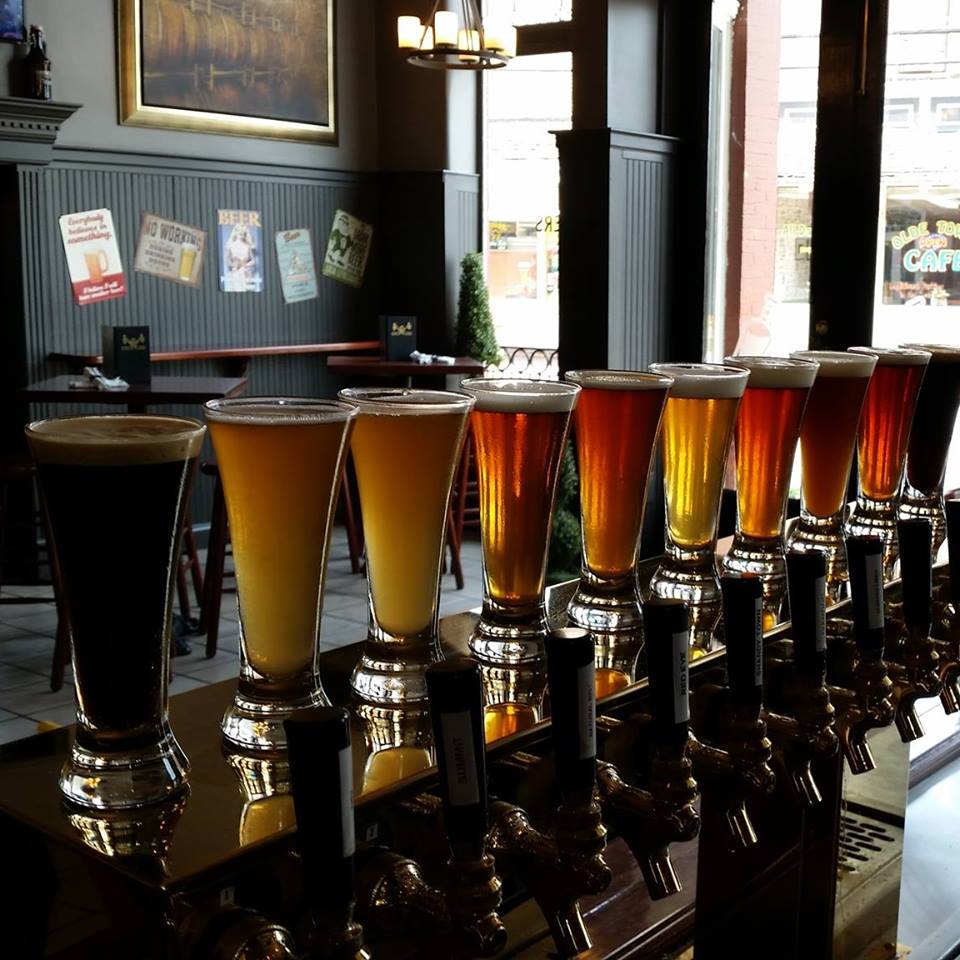 Trying new beers in Gaithersburg, Md.
On a rare Saturday night off, this weekend I headed to Gaithersburg, Maryland, to visit friends who recently moved there.
My partner in crime, Sean, came with me, and we visited two of Gaithersburg's local hot spots to try some new brews.
Here are the spots we visited, and what we tried:
Growlers
Growlers, the first brewpub in Montgomery County, is considered to be a landmark destination for craft beer drinkers, according to its website. The place has a cool, train station-esque vibe.
In addition to beer, we had dinner at Growlers as well – and I had probably one of the best sandwiches I've ever had.
Punktober Pumpkin Ale
I had a Punktober, because tis' the season,  right? The seasonal ale had a lot of flavor, and I gave it a 3.25 rating on Untapped.
Resolute Extra Stout
Sean — who is way better at writing about beer than I am — had their English extra stout, a traditional form stout.
It was nice and roasty, dark in color from English and American malts. There are some sweets on the end, they claim chocolate in the description. There aren't any online rankings for it, so I will give it a 7.7/10.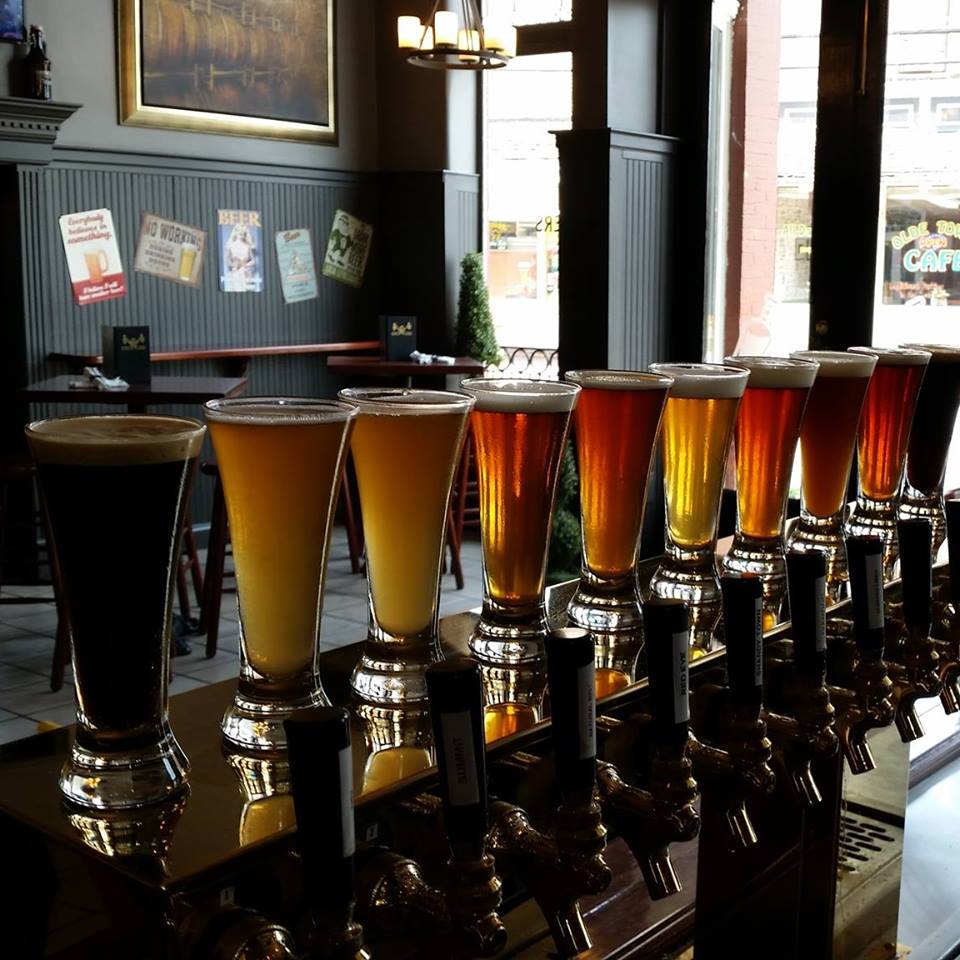 Old Town Pour House
With locations in Maryland, Chicago and two other Illinois locations, Pourhouse is a fairly new bar and restaurant featuring 90+ craft beers on tap.
You can read more about them on their website.
Blackberry Pear Cider
I had a Blackberry Pear cider by Crispin Cider Co., of Colfax, Calif. Pourhouse describes the cider as a sweet-sharp blackberry tang complemented by a pear-berry bouquet. I loved it – and ended up buying a pack at the local six-pack shop on the way home!
ABV: 5%
Innus & Gunn Original
Described as an oak-aged scotch ale with strong aromas of vanilla and toffee, with a light oak and malt finish, the Innus & Gunn hails from Edinburgh, Scotland. It was a little heavy for me, especially after a big meal, but still quite tasty.
ABV: 6.6%
Piraat
Sean had a Piraat, from Brouwerij Van Steenberge in East Flanders, Belgium. It's described as either a Belgian pale ale or a Belgian Strong Pale Ale.
Essentially it's a Belgian re-fermented with Bordeaux wine yeast. It came out golden into the tulip class. At 10.5 percent ABV, the hoppy taste is huge with a lot of citrus and other fruit flavors that I'm not competent enough to pick up on.
BeerAdvocate gives it a 90, with a 94 BROS score.
Space Dust
Sean also had Space Dust, from Elysian in Seattle. This IPA clocks in at 8.2 percent ABV.
It's packing Chinook hops and dry additions of Citra and Amarillo hops. The IBUs are at a reported 62, which isn't necessarily out of this world, but it was powerful enough to give me pause.
BeerAdvocate gives it a 91, no BROS score.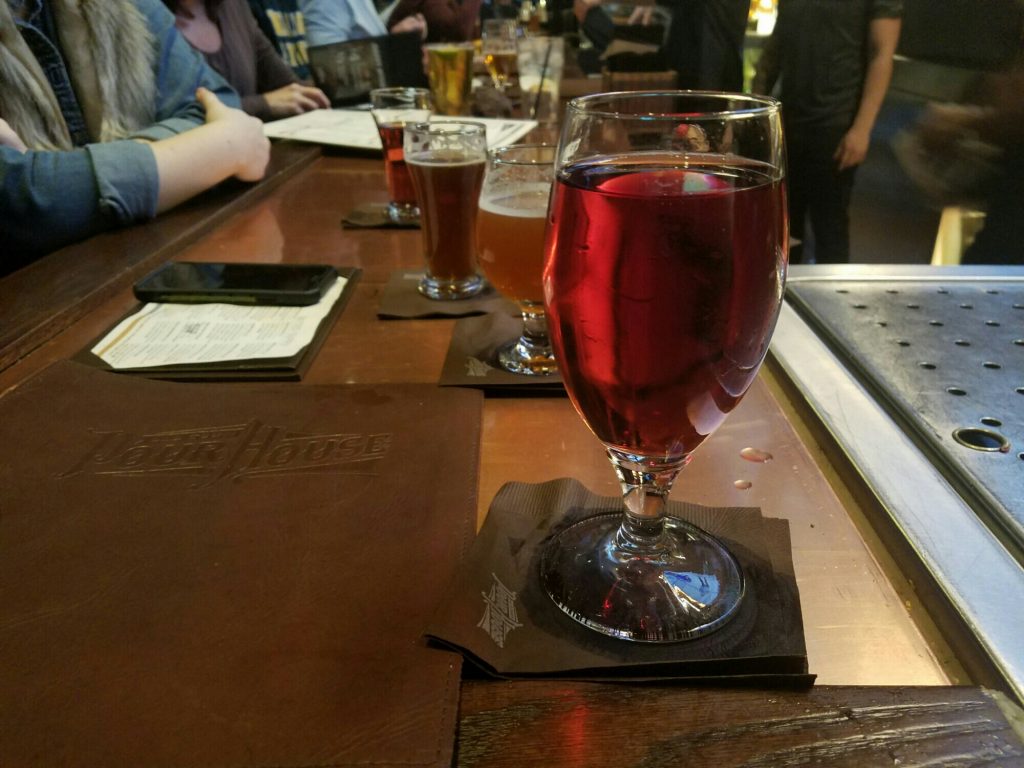 Visit Montgomery County shares a nice resource of other breweries to visit while in the area. See that list here.
Pin this post: