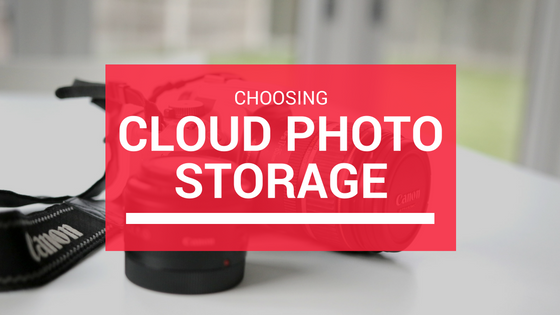 Guide: Choosing cloud photo storage
Cloud storage offers an inexpensive alternative to storing photos on your computer, and allows you to access your photos from anywhere on any device.
But which cloud storage system should you use?
Here are the pros and cons of the major options online right now:
Google Drive
Google Drive initially comes with 15 GB of free storage, which, if you're taking professional-quality photos, will run out quickly. An upgrade to 100GB of storage costs only $2.99 per month, automatically deducted from your Google Play account.
Drive can be used to store photos in organized folders and upload and sync photos from anywhere. Plus, Drive allows you to share links to a folder to family or friends.
Pros:
Low cost
Easy sync across devices
Easy sharing
Cons:
No automatic upload unless using Google Photos
No printing component
Learn more about Google Drive here. 
Amazon Prime Photos
Prime members are able to upload an unlimited number of photos to their account. While a Prime membership is $99 a year (or $10.99 per month), membership comes with a lot of other added benefits too, like free, two-day shipping on Amazon purchases, access to movies and TV shows to stream and more.
One unique feature of Amazon Prime Photos is the Family Vault feature, which allows you to upload photos to a shared folder with up to five other members.
Prime's organizational tools are pretty neat, with face recognition that allows you to search your photos by the name of the person in them; and also organizes them into smart categories like "pets," "beach" or other keywords.
Photos can be ordered online straight from Prime's printing component.
Pros:
Photo sharing with family members via Family Vault
Unique organizational tools
Printing available straight from account
Cons:
Higher cost
Must individually upload photos from mobile devices
Learn more about Amazon Prime Photo storage here. 
Dropbox
Those that spend a lot of time editing photos should consider Dropbox because of its simple integration with your computer. Files can be automatically sorted and updated within the application.
Dropbox also offers an auto-upload feature on both computers and mobile devices — a blessing or a curse, depending on how many photos you're taking on-the-go.
While pricey, Dropbox offers a hefty terabyte of space for $99 a year or $9.99 per month. In its free state, it comes with 2GB of storage.
Pros:
Compatibility
Auto upload
Large storage space (with a price)
Easy sharing
Cons:
Storage price
No printing options
Learn more about Dropbox photo storage here.
Overall, when deciding which cloud storage option is right for you, you'll need to weigh the pros and cons of each. Personally, I like having a few-click option to print my photos as well as large storage space.