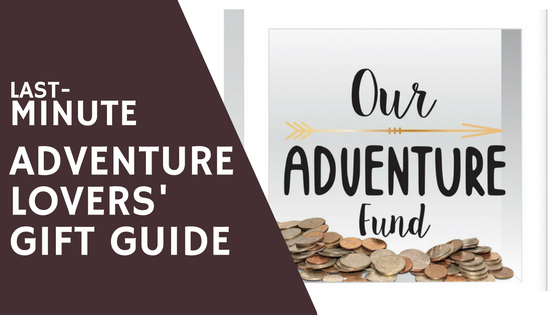 Last-minute adventure lovers' gift guide
Guess what? Christmas is next week. I just had that realization this morning, when I also noted that I haven't done most of my Christmas shopping yet.
If you're a last-minute gift shopper like me, here are a few ideas for the adventurer in your life that will arrive on time. If you're an Amazon Prime member, these should arrive in just two days.
A Day Pack
I've recommended this product on Life Disconnected before, because I love it that much. This pack is the perfect size for a day hike, fitting the essentials, like a first aid kit, snacks, water and more. It's small and light.
Osprey Tempest 9 Backpack
You might have seen it in action in my profile picture.
A cozy fleece jacket
I love my Columbia fleece jacket that I wear on short hikes and walks with the dogs. It's warm, yet not so heavy that you feel gross while exercising in the winter.
Benton Springs Fleece Jacket, Women's

Columbia Cascades Explorer Fleece, Men's
Inspiration
A book is a great gift for the adventure that is spending some time indoors during the cold winter months. Here's a description of a good pick on Amazon:
Hankering to tackle a long-distance trek, or an icy mountain peak? 1000 Ultimate Adventures brings together activities and challenges to captivate and inspire gung-ho adventurers and armchair travelers alike. From the epic to the local, on land, sea or even in mid air, the offerings here will encourage you to dream, plan and set off on your own adventure.
https://www.instagram.com/p/hByv6eMgQ3/?tagged=1000ultimateadventures
An Adventure Fund Bank
Let's face it, many of us feel that we can't travel enough because of other financial obligations. This inexpensive gift will inspire savings for future trips.
A Customizable Push-Pin Map
An awesome way to remember adventures, this customizable map comes with pins to mark the spot that was visited. It comes from the same Handmade seller in many different versions, but I love the National Park Adventures Map the most.
Also, see the USA Map and the World Map.
For the adventure dog:
Don't forget about your favorite adventure buddy this Christmas! Consider a new hiking pack, sleeping bag or handy collapsible food or water bowl.
This post contains Amazon Affiliate links, which means that, at no cost to you, I will receive a portion of revenue for sales made on these items.