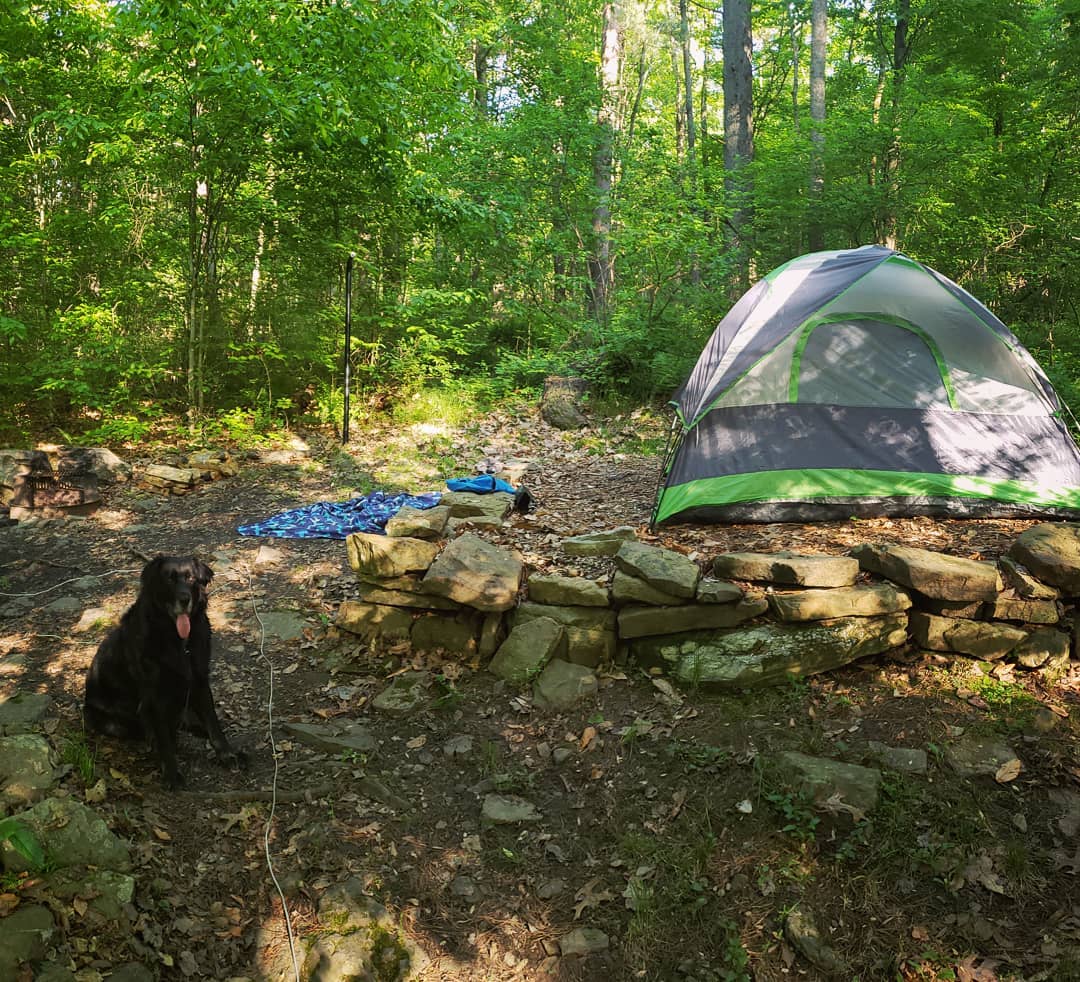 Camping in 2018: What I'm doing differently
While both Sean and I had camped before with our families or friends in the past, the summer of 2017 is the year that we really started camping more as a hobby. We both love hiking and the peacefulness of being outdoors, so it's probably one of the most perfect activities we can do together as a couple — and we can bring the pups along, too.
But, because 2017 was our first year really camping, it was a year of learning. We learned, for example, that we have way too long of a work week to sleep on the ground without an air mattress, and that we need to prepare better for the rain — because it seems to rain on every trip we go on.
We're already camping more this year — I think because we're a little more comfortable with what we're doing. We can get our site set up in about 20 minutes, and we know where everything is and what we'll use on each trip.
Earlier this year, I wrote that it was on my 2018 bucket list to camp at a really cool site at Dew Drop Campground in the Allegheny National Forest, and it's happening! In just a few weeks we'll be there, camping at what one YouTuber called the best camp site in Pennsylvania.
Here are some things we're doing differently this year:
I bought a waterproof pack
We've never had any issues with water coming in our tent, but we have dealt with our things getting wet on our way TO the tent. Then, you're stuck with damp-ish stuff the rest of your trip while it sits in your tent.
I ordered this Relentless Recreation Dry Bag to pack my clothes and electronics in — and it's a great bag. It'll be great to take kayaking, too.
Wearing sandals at camp
All last year, I wore slip-on walking shoes at camp. They'd get wet, they'd get nasty, and I'd have to throw them out when we got home. This was mainly because I didn't want to wear just flip flops around camp.
This year, I ordered a pair or Teva sandals to wear at camp. They're easier to walk in than flip flops, and they wash easily.
Getting a better air mattress
Last year we used a pretty cheap air mattress, and it got the job done — until our first camp of this year, when we realized it had a leak. Nothing is quite as fun as getting up a few times in the middle of the night to re-hand-pump air into your mattress.
We haven't ordered a new one yet, but I'm considering this one that's made for the outdoors.
Picked up a doggie picnic blanket
I went to Home Goods to look for a new camping bed for the dogs, but instead found something way better! A roll-up picnic blanket for pups with a case to store it in. This was GREAT, because we could roll it out by the campfire so that they had somewhere to sit that wasn't all dirty — so they tracked less into the tent.